Automate your business processes.
Turn your paper forms, lists, follow-up calls and emails into efficient workflows, securely stored on your own server.

Built for WordPress.
Teams in over 80 countries are using Gravity Flow for
Contract review, feedback, modification and approval Medical supplies order process Customer onboarding Email course content dripping University admissions application processing Scientific research lab experiment proposal feedback loop and approval Patient intake Employee vacation requests Employee travel requests Purchase order approvals Expense reimbursement A Courier Dispatch System Product order form approval Multi-level job application process ITIL-based Change Management Process Security change requests Student registration process Product demo approval A Simple CRM Application Employee Onboarding Overtime Approval Mileage Reimbursement Employee and Emergency Contact Information Meal Waivers WordPress account and site creation approvals An End-to-End Online Reservation System Sales Force Automation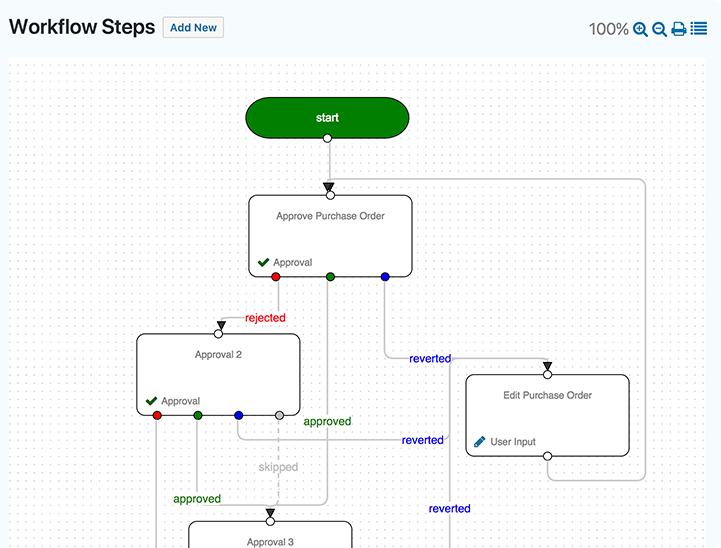 Feedback & Review Loops
Modify forms before approval
Implement review loops allowing users to edit their values before re-submitting for approval. Use workflow conditional logic to branch the process or skip steps.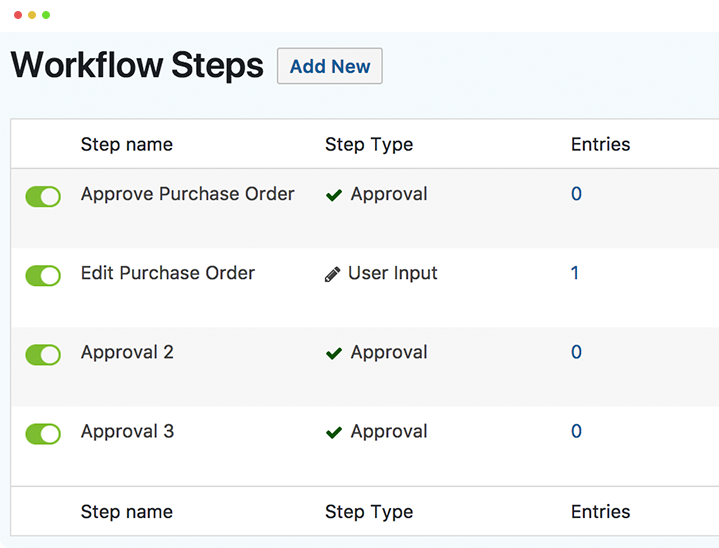 Rapid Implementation
Simple and easy to use
Configure as many Workflow Steps as you need. Drag and drop them into the right order, activate/deactivate them and add new ones as your process adapts. No programming, technical knowledge or complex training required. You shouldn't be paying for an entire team of developers just to get up and running.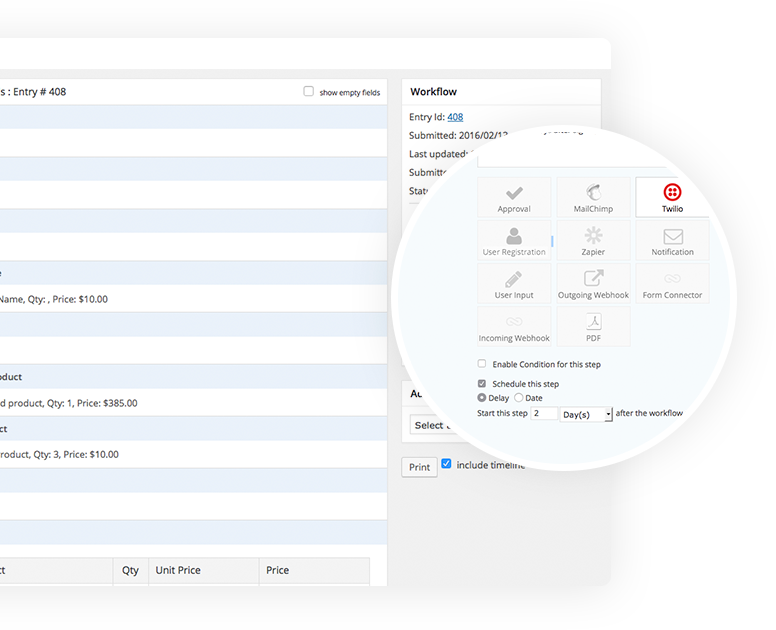 Robust, Powerful & Flexible
Over 40 different step types
Steps include approval, user input/edit, notification, webhooks and integration triggers for third-party services.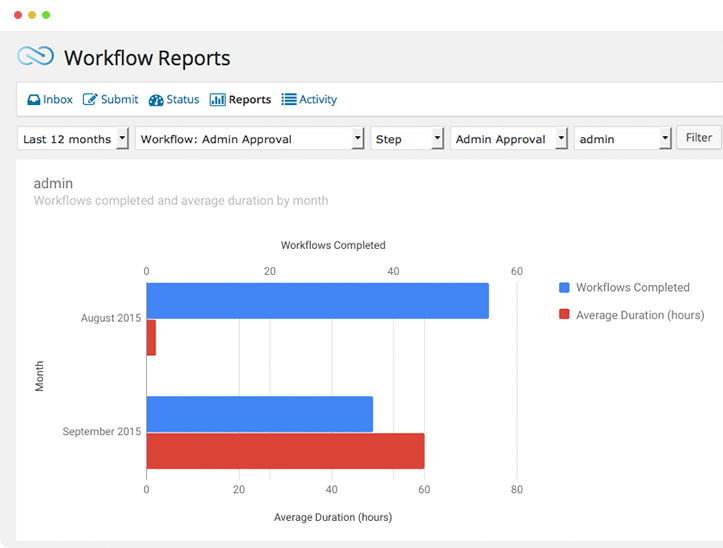 Reporting
Keep track of performance
Detailed reports display how long each task is taking and highlights bottlenecks.

Suitable for Any Business Process
Automate anything requiring a form
Vacation requests, Purchase Orders, Admissions Forms, RFPs, Project Initiation Plans, Case Management... virtually any business process can be automated.

Easy compliance with data privacy regulations
Secure by design
Your private business data, and your customers' personal information, is always securely stored on your own server. Build workflows to delete personal data automatically after a reasonable amount of time.

Involve Anyone: Customers, Suppliers or Employees
User accounts not required
Assign Steps to Users, Roles, or Email Addresses. Assignees do not need a user account in order to participate in workflows.

Improve Communication and Reduce Confusion
Fewer phone calls and follow-up emails
Stop micro-managing. Keep everyone in the loop. Help internal teams focus more on the task and less on the process. Make it easy for customers and suppliers to participate in the workflow.

Responsive Front-End
Designed for mobile & desktop
Display the UI in the front-end or use the built-in admin pages to list pending tasks, view entry details, workflow forms and the status of submissions.

Audit Trail
Track everything
Keep track of who did what and when in the detailed Timeline and Activity Log. Includes comments, timestamps and step and status information.

Scheduling & Expiration
Set deadlines and control timing
Delay a workflow step until a specified date or until a specified period of time has elapsed; particularly useful when configuring a series of emails to drip feed content over a period of time.

Extensible & Developer-Friendly
Plenty of hooks and Workflow APIs
With the REST API, the Workflow Step API, the Orchestration API, and a multitude of action and filter hooks, developers can easily customize the functionality and create new step types.

Professional Translations
Available in your language
The core plugin and all the extensions are translated into over 12 languages including French, German, Spanish, Catalan, Swedish, Arabic, Dutch, Italian, Portuguese, & Chinese.
Testimonials


"I was simply amazed that I was able to not only download it and install it in minutes but build the workflow and implement a process in just a few hours. Our company had been tracking requests manually by email and spreadsheets and it was always difficult to track any progress or changes to the tracker. Data was always lost and who knows what version the spreadsheet was on. This solved that problem and more. Not only we were able to keep every record in one place but track progress and follow up on everything we put through Gravity Flow. Deadlines were met and no more questions about the spreadsheet tracker.

If you own a business or work in an environment that requires approvals, tracking, and needs to speed up any process I would highly recommend this tool. The amount of information and support you get is awesome!"

"We use Gravity Flow for enrollment of students, plus annual forms and processes required by state law. We are a large public school district in the state of Ohio. We use Gravity Flow to run workflows like central enrollment, field trip requests, professional development leave, and continuing education credits.

Using central enrollment as an example: Parents complete the enrollment form via a simple form interface. In accordance to the Gravity Flow logic, the form is routed to the relevant schools, central office, and finally back to the parent.

Schools in Ohio are constantly presented with registration solutions and/or workflow solutions that cost between $65,000 to $90,000 a year. Needless-to-say, Gravity Flow is a wonderful, cost effective solution to many of the process we encounter in the public school setting."


"Prior to using Gravity Flow, our company printed out forms for employees to submit to their supervisors for approval. These printed forms were often lost, accidentally thrown away, or forgotten on a desk. Gravity Flow is able to send reminders automatically to ensure the forms are completed in a timely fashion.

Gravity Flow has simplified processes that previously caused many problems. I would recommend this system to anyone looking to create fast and easily customizable workflows in an environment where printing, scanning, emailing and printing again is common practice.

Gravity Flow has full audit trail and reporting which we have found to be very useful. We are able to generate reports based on key fields in the form that produce statistics for management to utilize."


"Gravity Flow has been heavily leveraged to optimize the typical handoffs between departments. From vacation requests and approvals, to mileage reimbursement requests, to many department-specific workflows, Gravity Flow has been used to automate many workflows that were previously paper-based and to replace workflows that were previously implemented in a SharePoint system that was prone to issues.

Since implementing Gravity Flow, turnaround time has been reduced to just a few minutes instead of days or weeks.

Our group is seen as a hero because of Gravity Flow. We are able to rapidly implement complex workflows, and then work with the business groups to tweak them as necessary as they get used in the real world."

"Gravity Flow is the best thing since Gravity Forms. One of the most powerful, intuitive plugins I've ever used. It has saved us thousands and did more than we ever expected."


"Since using Gravity Flow, we now have an increased capacity to close approved loans faster, which is what really matters to us and to our borrowers. We now have a 14 day turnaround time which is unheard of in our industry where excellent is at least 30 days. While we did not apply Gravity Flow to our processing pipeline, we were able to spot errors and missing information earlier in the sales process so we could correct it before the loan made it to processing and clogged up the pipeline. We also introduced a CRM at the same time, but the flexibility of Gravity Flow allowed us to standardize and automate auxiliary processes that our CRM and Loan Software were not designed to handle. All of these changes, allowed us to change our culture to more of a manufacturing mindset, from beginning to end, giving us benefits of saving time, information retention, enhanced communication and clearer reporting."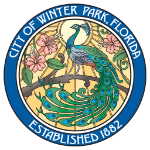 "With Gravity Flow, we managed to develop a complex and customized vacation workflow system with several different layers and steps, simplifying the vacation request process for our users. Gravity Flow is a highly customizable workflow solution, and it allowed us to create the exceptions and add the specific features our process needed. With the assistance of the exceptional support Gravity Flow provides, we were able to develop a vacation workflow solution that not only saves us time but also money in managing our requests.

The process that used to take several days to be completed can now be completed in a manner of minutes in a comprehensive and easy way."
Gravity Flow requires WordPress and Gravity Forms.
All licenses include a Starter License for Gravity Forms for the first year.
Prices are exclusive of EU VAT (only for customers inside the EU).
* Live chat is subject to availability of support agents
Frequently Asked Questions
What are the alternatives?
You could sign up for an account on a hosted workflow service. The pricing models for SaaS (Software as a Service) solutions are generally pay-per-user or pay-per-process. Compare the costs – both now and as you scale. How quickly will you get a return on your investment? If any of your customers' personal information will be on their servers, will you be able to get the contracts in place to comply with data protection regulations? You could also choose to do nothing – continue as you are with your paper forms, web forms, follow-up calls, emails and lists. Do you know how much this is costing you? The cost of doing nothing vs the return on investment can be astonishing.
Is there a single-site version of the Ultimate license?
No, you can choose to pay as you go license by license, extension by extension, or you can choose to purchase the Ultimate license bundle which includes all the extensions.
Can I upgrade after purchasing?
Yes, you can upgrade any time for the price of the new license minus the price of your current license (extensions not included). The expiration date is not affected.
I only need Gravity Flow for one site on a multisite installation. Which license do I need?
The only licenses which support WordPress multisite are Volume and Ultimate. They will support unlimited subsites regardless of the number of sites they're activated on.
Is there a demo?
Yes, we have a demo site where you try some sample workflows.
The cookie settings on this website are set to "allow cookies" to give you the best browsing experience possible. If you continue to use this website without changing your cookie settings or you click "Accept" below then you are consenting to this.