Since I founded Gravity Flow in 2015, there's one thing I'm especially pleased we got right, and that's our dedication to customer support. This is reflected in our renewal rate, which continues to rise every year.
Gravity Flow is a workflow platform that uses website forms to streamline business processes. In short, this means tasks that used to take your business weeks can now be completed in minutes.
Typically, business process management software is expensive. You're usually looking at more than a thousand dollars per month, and for larger institutions using workflow software that charges per user, this jumps to tens or hundreds of thousands.
In contrast, Gravity Flow is a reasonably priced choice that's more flexible than many other options. This means workflows can be tailored to suit your business – you no longer need to fit your processes into rigid systems that aren't quite right.
Gravity Flow is powerful, and in the right hands, it is nothing short of transformational. Knowing this is what makes support so strategically important to our business, and it's why we see support as our core product.
How our model works
Gravity Flow runs using Gravity Forms and WordPress with a drag-and-drop setup. You can implement complex workflows quickly, without needing technical or coding knowledge.

Most of our customers combine our main plugin with extensions to create powerful integrations for specific use cases, and we've had glowing feedback from our customers on this. For example, a Digital Services Manager at Macaulay Honors College called Gravity Flow: "One of the most powerful, intuitive plugins I've ever used," and said, "It has saved us thousands and did more than we ever expected."
Our sales data shows just how much our customers value using extensions with Gravity Flow. Looking at the sales by product reveals the collective number of sales for extensions is 30.3%. For context, the percentage share from Gravity Flow itself is 55.5%, and the premium Gravity Flow Ultimate License makes up 14.2%.
The relatively even spread of popularity amongst the majority of key extensions demonstrates the wide variety of business processes that Gravity Flow is used for. Anything is possible because Gravity Flow is more than a standalone product.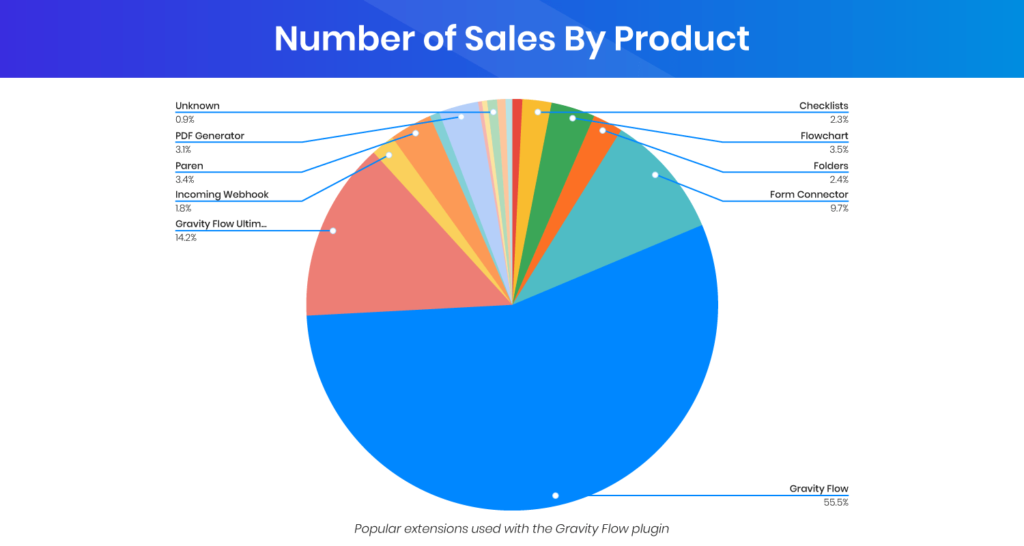 The simple secret behind our 70% renewal rate
The average renewal rate for WordPress products is ~50%. Our renewal rate has performed consistently above average, and it's been increasing year-on-year:
56% renewal rate in 2017
60% renewal rate in 2018
65% renewal rate in 2019
70% renewal rate in 2020
These renewal rates are a huge win for our team and a reflection of their hard work, but comparing our rates with the industry average reveals our performance through the lens of the WordPress ecosystem as a whole. We're proud of what we've achieved, especially because what the renewal rate really tells us is that we are providing real value for our customers.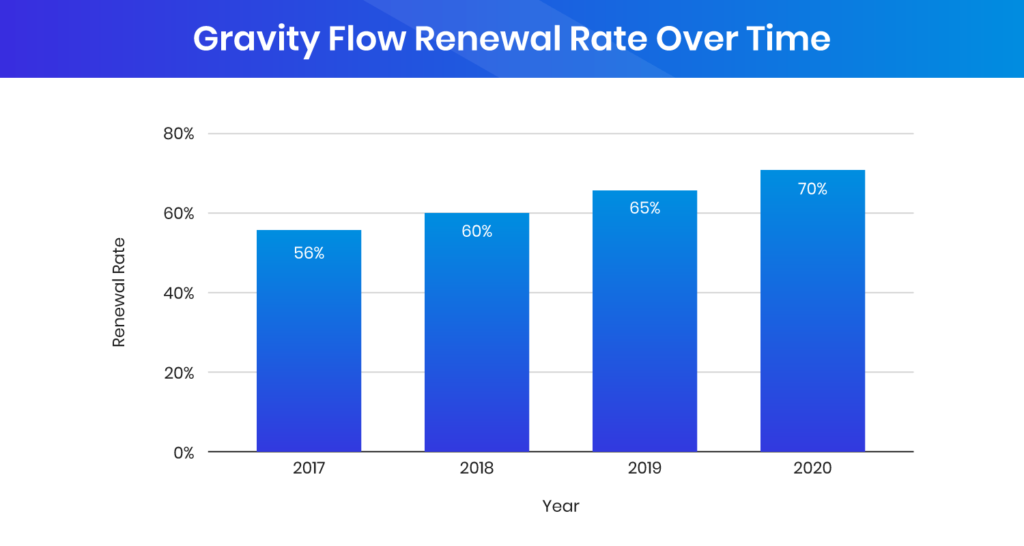 What have we done to achieve a 70% renewal rate on Gravity Flow's licenses? It's simple. Over the last five years, we have dedicated ourselves to:
Making a great product
Providing outstanding customer support
Clearly, every WordPress product is going to be created differently to meet different needs, so it's the support side of the equation I want to focus on in this article.
How we provide outstanding support
We take a unique approach to customer support, especially with the value we place on building relationships with our users. The result is that we retain satisfied customers.
An inside look at our support process
Starting from setup
We put a lot of emphasis on helping customers set up and succeed with Gravity Flow. Support during setup helps users understand what Gravity Flow can do for their business in practical terms.
Our customers often have complex business requirements that are unique to their organization, using Gravity Flow to manage all kinds of business processes, such as approvals, sales, school enrolments, vacation requests, and other bespoke automations that save time and cut costs.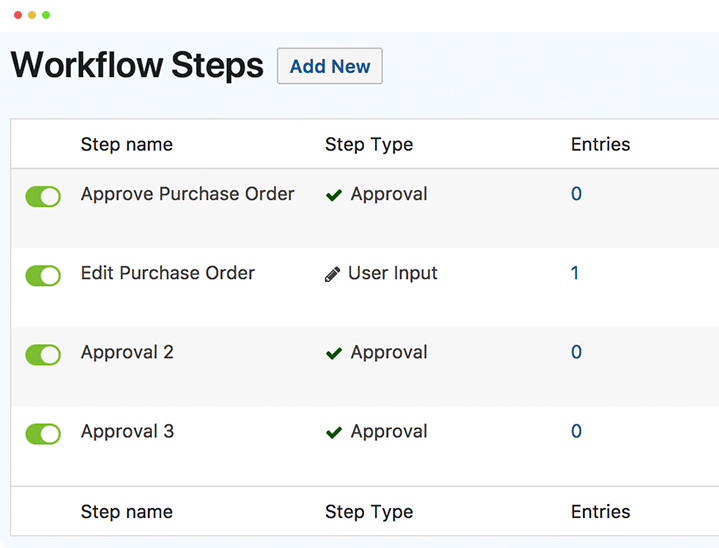 For many customers, the positive impact on their business is evident immediately. One customer, an IT Director from Mariani, said: "Since implementing Gravity Flow, turnaround time has been reduced to just a few minutes instead of days or weeks."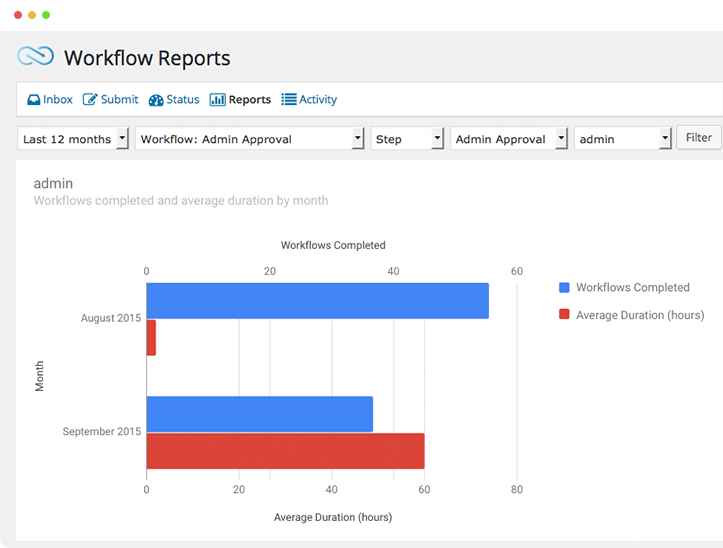 Paying attention to setup is also good for our business because it encourages continued use and customer retention. Renewing is an easier decision when Gravity Flow is already providing real value. If they didn't manage to get through the setup process, they won't have experienced the benefits of the tool, so when it comes to renewal, why would they bother?
The high-quality support we deliver leaves such a strong impression on customers that we view customers who don't use support as the highest risk for not renewing.
Staying in touch through emails
Our support process starts with emails. First up, a personalized email from me will arrive in a customer's inbox seven days after signing up. This encourages a response from them by asking if they need any help, and if they do, it gets routed to support.
We send automated follow-up emails for unanswered support requests after seven days. This way, we give each user another chance to resolve their support request, even if the user became busy or distracted with other work previously.
Later, we reach out to customers again to ask how things are going. This encourages interaction from our users, and if everything is going well, we ask for a testimonial or review.
Here's an extract from one customer testimonial: "Gravity Flow's support is simply outstanding, highly responsive, and clearly committed to customer satisfaction. They clearly go above and beyond to ensure that their plugin and extensions solve people's problems and work effectively." Information Technology Manager, American Academy of Clinical Neuropsychology
Keeping the conversations going
If we're communicating with our customers, we'll always try to keep the conversation going or show our customers they can come back to give us feedback, updates, or ask us more questions.
We offer live chat support on our Ultimate License. The customers who use this service make the most of it, and we're happy that they get a lot of value out of it.
We take a proactive approach to all of our customer relationships, building, developing, and strengthening them by being friendly, empathetic, and interested. We keep conversations with customers going by asking them to let us know how they get on with our support suggestions – and the truth is, we do really want to know!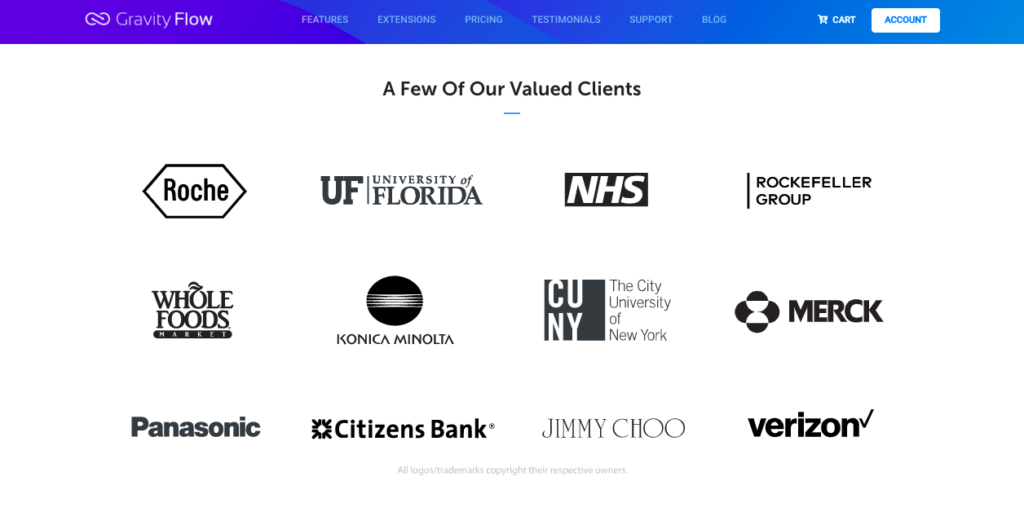 Managing support internally
We have set up a two-tier support system. Teams from the first level and second level of support work very closely together, collaborating on Slack and sharing notes on support tickets. This helps avoid burnout for support engineers and gets the right level of support to customers quickly.
When responding to support queries, we keep an eye on some key metrics. For example:
we aim to keep the average time to make our first response as low as possible
our target response time is within 15 minutes
What we do when users want custom services and development
We don't offer custom services, but occasionally we'll send out snippets to customers, which means we share some code that provides a useful function.
Internally, we have a rule that we'll send out snippets if:
we have time
we think it will be helpful to other customers
it makes sense to add it as a sample snippet to our documentation
In some cases, we'll start with a snippet but later build this functionality into Gravity Flow, just like we did with our user registration snippet.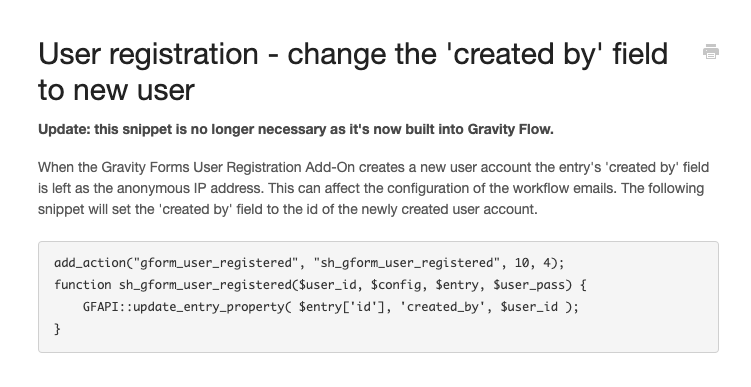 If a support request requires custom development, we route it to developers with whom we have a partnership, and we:
help our customers draft briefs
work with the developers to give them guidance
follow up with our customers to see how things are going and whether we can help
Although we don't offer custom services, we do have a wide variety of integrations, and our commitment to backward compatibility positively impacts customer renewals by providing a sense of continuity, stability, and reliability.


Why we offer a refund guarantee
If Gravity Flow is not suitable for a user, we want to refund them early.
This keeps everyone happy, even if Gravity Flow wasn't a good fit, and it means we can focus our attention on the customers who don't want refunds.
We want to ensure the customers who benefit from using Gravity Flow understand its full value and want to renew. Those are the customers we're looking for and want to retain.
Handling ratings: The good, the bad, and the neutral
It's rare for us to get negative and neutral ratings, but if we do, these are routed to me so I can double-check them. There's always a good explanation, but if something were to go wrong, this process makes sure we are able to identify and fix it.
Positive feedback about support is great for morale, especially because we put so much effort into this area of our business. We always route positive support ratings (with our Incoming Webhook step) into our Slack channel for the support team to see, giving everyone a little dopamine hit and demonstrating how important their work is.
Creating lasting relationships
Helping our customers work through their problems and find solutions is not just a short-term win for them. It improves efficiency with lasting results. All the while, Gravity Flow becomes more deeply integrated within their business, so it's invaluable for us too.
These high-value interactions also help us with our business roadmaps because we can capture detailed feedback and product and feature requests. Armed with this information, we keep refining Gravity Flow and making it even more useful for transforming business processes, which is more positive news for renewals in the long run.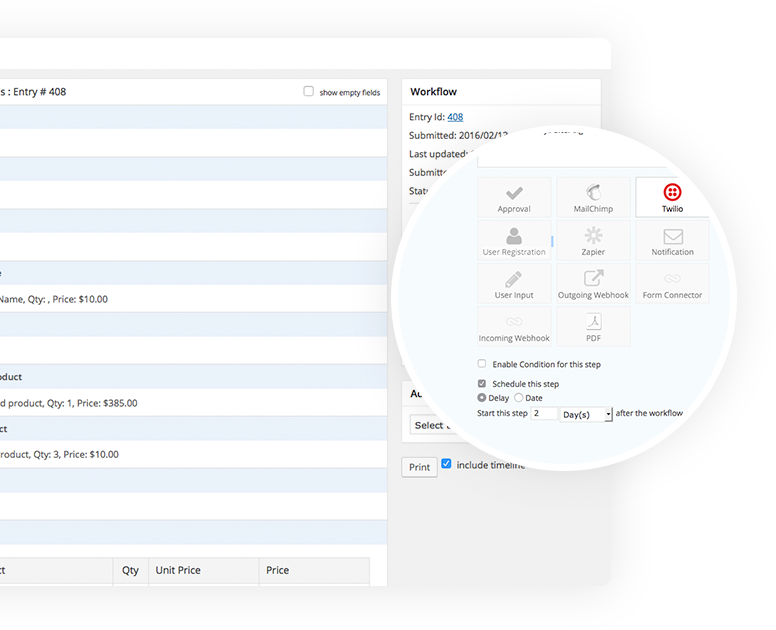 Challenges we faced and how we overcame them
As part of our support offering, we aim to make it easy for customers to self-serve by providing all the tools and information they need. Our approach balances between empowering users to find resolutions on their own, and remaining proactive, approachable, and available when they need us.
One of our customers, a Principal Engineer from Verizon Wireless, said: "The amount of information and support you get is awesome! I was able to get answers to my questions very quickly and the online documentation is very detailed."
We recognize the value for users being able to experiment, play, and learn in their own time. Our onboarding sandbox and the unique role of our support documentation have been developed around this idea.
Adapting our onboarding sandbox
We provide an onboarding sandbox site to each customer. This is a place for them to try things out, as well as a place for reproducing support issues and showing solutions. It's also a platform for our support team to demonstrate proof of concept projects.
In the early days, we used to provide a sandbox as a pre-sales tool. However, we found this generated a lot of support requests from people who weren't serious buyers. This process was replaced with a 30-day refund guarantee and front-end demo.
While we do expect a higher refund rate, this change benefits us because we know our customers are serious, and so we go the extra mile to retain them.
Switches like this one might seem like business risks at the time, but in our case, the total refund fees are a lot lower than the costs of pre-sales support for users who weren't going to get long-term value from Gravity Flow.
Extending the sandbox
Coming soon, we have a learning management system (LMS) that customers can use to:
learn and develop their skills
demonstrate to their companies or clients that they are certified
To coincide with this launch, we'll be extending the onboarding sandbox platform so it can also be used as the playground for the LMS.
Initiating conversations through documentation
Unlike the usual aim to reduce support tickets, our documentation plays a unique role as a marketing tool and a self-serve support tool in equal measure. The intention is to help customers initiate a conversation with our support team.
We aren't driven by a concern that we need to reduce our workload. If we were only trying to cut the number of support tickets we get, we'd be losing out on crucial opportunities to interact with our customers. In our view, support docs are created to make life easier for customers, not to avoid talking to them altogether.
Keeping it simple
Reflecting on how Gravity Flow retains customers, it's clear that it doesn't need to be complicated. Our formula is simple: We've prioritized building a good product, and we've dedicated ourselves to developing strong, lasting relationships.
From support during setup to continued, proactive outreach, we provide value for our customers' businesses while creating a solid renewal and retention system for ours. Gravity Flow might help businesses automate their processes, but we haven't forgotten the value of human connection.