Higher education institutions, like colleges and universities, are built on workflows.
The larger the institution, the more processes need to be implemented in order for things to continue running efficiently.
The problem for many, however, is managing those workflows effectively.
Paper forms, emails and spreadsheets – anything non-automated, really – can cause significant slowdowns and delays for important things like enrollment, financial aid, faculty requests, students scheduling and more.
Many colleges and universities often feel pressure to continue advancing themselves as successful academic institutions, which makes simplifying workflows is a primary goal.
Yet the management of these processes can be difficult and time-consuming, and mistakes can be costly.
Thankfully, workflow automation – which a variety of industries, from business to healthcare and beyond, have embraced – can also aid in higher education in overcoming these challenges.
Free Download: 9 Workflow Automation Solutions for Higher Education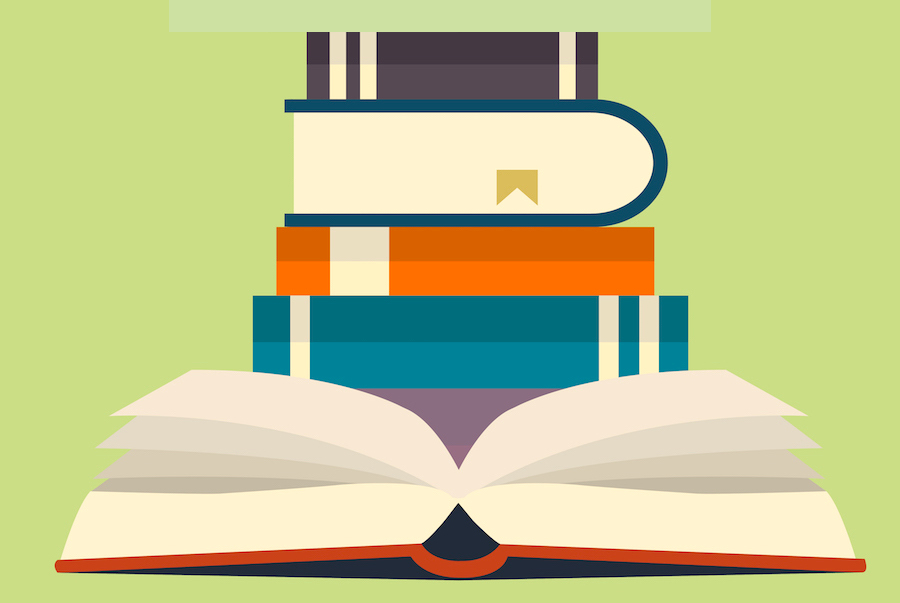 Challenges with Manual Workflows in Higher Education
Like any organization, colleges run on interactions between individuals and departments, both internally and externally.
But, colleges and universities face many challenges that other organizations don't.
This includes things like student enrollment as well as complex financial issues like FAFSA and other financial aid organizations.
Additionally, some of the biggest challenges can involve processes like:
Registration, admissions, departmental coordination]
Research and acquisition
Staff development and training
Promotion, alumni relations, community relations and donations
Careers, counseling and advice, international and disabled student support
Student financial aid, grants, staff finances
Student and employee safety
These processes can place a heavy workload on administrators in particular, many of which will spend their time processes forms, sending email confirmations and making phone calls.
This can amount to many repetitive tasks, which also leaves administrators open to the risk of human error. A lost form here, a missed notification there, and bottlenecks can pile up, causing significant delays.
It's easy to see how even a simple automated workflow could benefit administrators.
Having forms automatically submitted for approvals and notifications sent without admins needing to send a single email can free up precious minutes in the day for staff.
Automation can eliminate or reduce some of the biggest wastes in higher education, including overproduction (sending too many forms or spending too many hours on a single project), waiting and repeated work.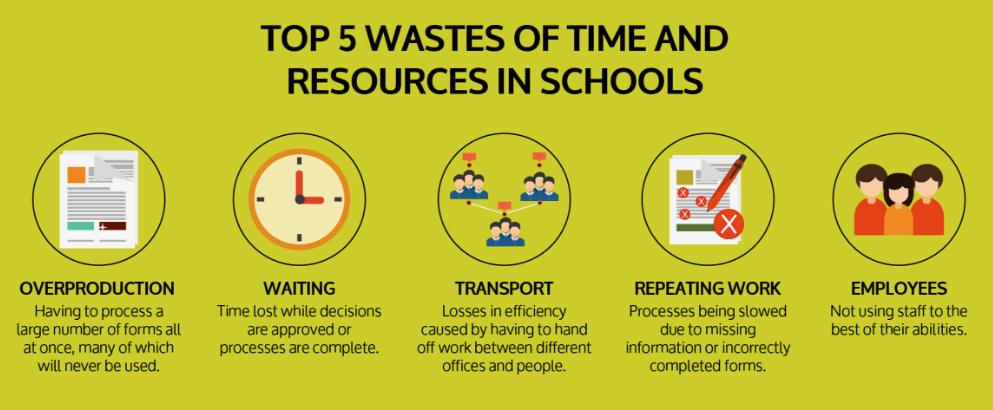 It can also help reallocate professors' time away from administrative tasks so they can focus on teaching.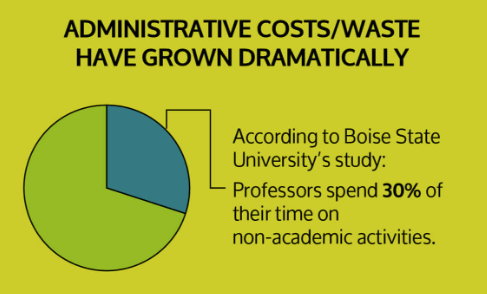 Considering that the average payroll expenses for private colleges in the U.S. are roughly $41.6 million per year (for teaching faculty and administrators), even a few minutes saved each day can add up to significant savings over time.
Since many colleges struggle to cut costs, automation can be a major boon for many institutions.
But the key to workflow automation is knowing which academic or administrative workflows will benefit the most from it and finding the right tool to accomplish the tasks that need to be done.
Examples of Higher Education Automated Workflows
So which workflows can colleges and universities automate?
For administrators, this can include any forms that need to be submitted for approval, like:
Faculty travel requests
Financial aid requests
Grant proposal processes
Internship applications
Payment disbursement requests
Staff and faculty onboarding
Transcript requests
Vendor approvals
Admissions applications
Scholarship applications
For professors and other teaching staff, this might include things like:
Budget request approvals
Student scheduling
Attendance records
Travel or PTO requests
Peer or student reviews
Curriculum approvals
Purchase orders
Payroll forms
Content approvals
Scholarship awards
Many of these processes require approval or submissions to multiple departments, department heads, or even outside sources, like scholarship foundations, financial organizations or other colleges.
Instead of having to sift through paper forms (and risk losing them in the process), mail, email, scan or process them manually, automation allows you to "set and forget" certain steps.
This frees up time and resources for faculty and staff to focus on matters that are more important. After all, forms are not the only thing involved when running an academic institution: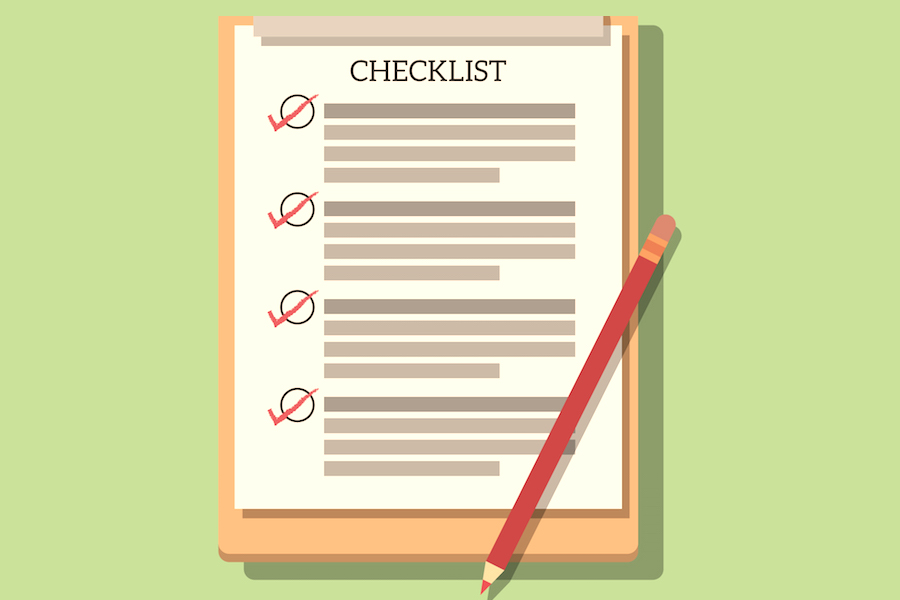 Assessing Workflow Needs for Colleges and Universities
How do you know if you need workflow automation for your college or university, or which workflows should be automated?
The first place to start is with a basic workflow assessment (sometimes known as a workflow audit).
Step 1: Review the current state of your workflows
It can be difficult to know whether or not there are bottlenecks in your processes if you've never looked too closely.
You might already know off-hand which processes seem to take the longest to complete, or where certain staff members have issues with current workflows (typically you can follow the complaints).
But you could still have bottlenecks in workflows that you assume are running efficiently. Just because there are no complaints doesn't mean things are efficient.
Make a list of your main processes (form requests and approvals, etc.) as well as their ideal outcomes.
In a perfect world, should a form request from a staff member be processed in a few minutes? If so, take note of it. You can use these ideal outcomes to measure whether or not your current processes are living up to expectation.
Some areas to consider assessing include:
Document management systems currently in place
Any workflow processes you already know about
Departments, roles and responsibilities involved with each workflow
Security and special permissions in each workflow
Any integrated software used in current processes or workflows
This should give you a general overview of how things are looking and which areas could stand to be improved with automation.
Step 2: Monitor current processes for inefficiencies and ideal outcomes
This may take some time, unless you've already been doing this. You want to look for things like:
Overall efficiency
Employee time: searching information, reformatting documentation, copying information, etc.
Physical space utilization (e.g. how much space is allocated to paper storage?
Complaints or compliance issues with current workflows
Employee job satisfaction with current workflows
You may wish to send out an employee survey or have faculty submit reports (which can also be automated) to ensure that you're recording your metrics successfully. Get real-time analytics, if possible.
Step 3: Create a roadmap for automation
The next step in the process is to draw out your workflows (we recommend swim lane diagrams) and create a workflow roadmap.
This roadmap will represent each workflow and show visually how they interact with each other, which departments or roles are involved in the process, and how different processes should be implemented.
This includes timing each step of a process and the time required to complete the entire workflow.
While this may be the most difficult part of the process for some, it's also the most beneficial. The good news is that mapping out workflows isn't as challenging as it seems.
You can find advice on how to create flowcharts here and how to identify bottlenecks here.
Once you have a workflow roadmap in place, automation is easy.
Here are 9 higher education workflows that automation can improve
Final Thoughts
The goal of workflow automaton for higher education is to help thingsrun smoother, eliminate human error as much as possible, and cut costs from things like time waste and repetitive tasks.
If staff is spending less time on the tedious stuff and more time building a successful institution (and successful students), then the organization can succeed, too.
If you're not sure how to get started with workflow automation, check out our blog for more tips and advice on workflow automation.