I'm excited to announce the launch of Gravity Experts, a new service from the Gravity Flow team designed to help you solve your unique business challenges through the power of automation, using Gravity Forms, Gravity Flow, and any custom development necessary for your specific needs.
Unlock the full power of automation with expert guidance and support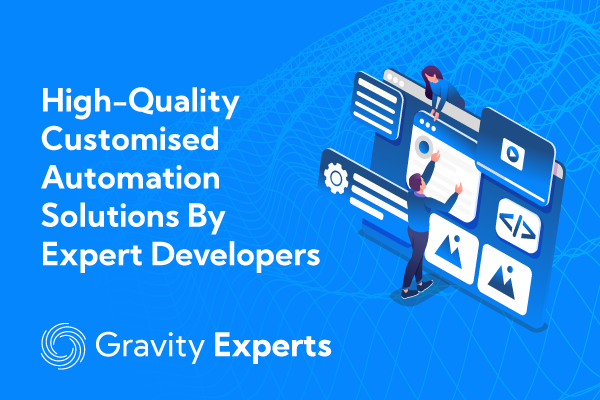 Working with Gravity Flow and all our clients for the past few years has given our team a lot of opportunities to develop highly functional solutions for clients across multiple industries. This has given us a lot of experience in identifying, defining, designing and developing workflows which have enabled our clients to automate their complex processes, saving them a lot of time and money through the powers of automation.
Customers of Gravity Flow have also told us time and time again how happy they are with the significant difference the solution has introduced to their processes, and many have wondered whether there is even more they could be achieving with it.
The power and flexibility of Gravity Flow means that there are a myriad of opportunities potentially available for every business, including ones you may not be aware of yet! While the product enables customers to do almost everything they need, we understand that no two businesses are exactly alike, so sometimes, customisation through development is necessary to make it happen. We also know that many businesses may not even be aware of opportunities for automation which can be present in their daily work: our experience developing solutions for clients across multiple industries means that the Gravity Experts team is uniquely positioned to help you identify more opportunities for efficiency, eliminating all your bottlenecks, inefficiencies, and giving you back all the time and money you may not even be aware you are losing
This is what brings us to launch Gravity Experts today: to make our expertise in developing bespoke solutions for customers available and empower more businesses to automate more of their processes through amazing workflows, no matter how complex.
So, how does it work?
The Gravity Experts process is straightforward and built to ensure we clearly identify all the automation opportunities and how best to achieve them for your business. Here's how it works:
Discovery
We'll go through a process of understanding how your business operates, your specific needs, and how we can put automated workflows together which optimise your business efficiency. We'll dig deep to find all the opportunities we can help eliminate inefficiencies across your business! Our expert team will design workflows for your company, and propose the best ways of building them using WordPress, Gravity Forms, Gravity Flow and any bespoke development needed, to fit your business perfectly.
Implementation
Following your approval, our team will get to work putting it all together for you, developing the solutions based on the workflows we would have identified and focusing on making it work perfectly. We'll solve and configure even the most complex, conditional and multi-step workflows using our expertise.
Support and Maintenance
As your business grows, your needs may change! Our team will be here to help you evolve your workflows and build on the strengths you would already have in place, while making sure your automation keeps ticking the way it should.
The whole process kicks off with a simple step: reach out to the team through this form and we'll send you a survey designed to get a clearer picture of your specific business. Based on your answers to that, we'll then send you a customised proposal which will outline what next steps to take to make it happen. It's as simple as that!
Get in touch with Gravity Experts today.