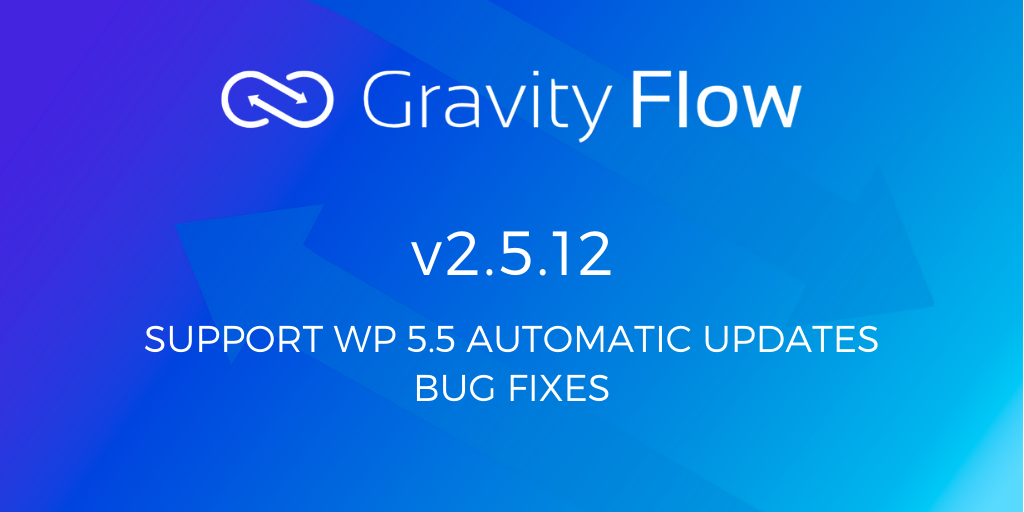 Gravity Flow version 2.5.12 is now available via auto-update and for download from the account area.
This is a maintenance release with support for WordPress 5.5 automatic updates for plugins plus additional bug fixes. We recommend that customers upgrade as soon as possible.
What's New in Gravity Flow 2.5.12
Added support for the WordPress 5.5 enable/disable auto-updates feature on the installed plugins page.
Added the red bubble inbox count display on the WP Dashboard Workflow menu item.
Updated the CSS class name 'wrap' by making it specific as 'gravityflow_wrap'. This avoids conflict with the CSS rules of some themes.
Fixed an issue on front-end pages with WordPress 5.5 removing the page parameter.
Fixed an issue where GP Limit Dates does not function on the User Input step when the min and max range is based on non-editable Date fields.
Fixed an issue where merge tags for the Confirmation Message in the User Input Step are evaluated before the workflow step completes.
Fixed an issue on the User Registration Step, where manual User Activation feed setting was sending email with activation link to User.
Fixed an issue on the User and Multi-User field 'Users Role Filter' setting display (but not filter save).
Fixed an issue where specific combination of inbox shortcode arguments would prevent role based assignees from accessing submit button.