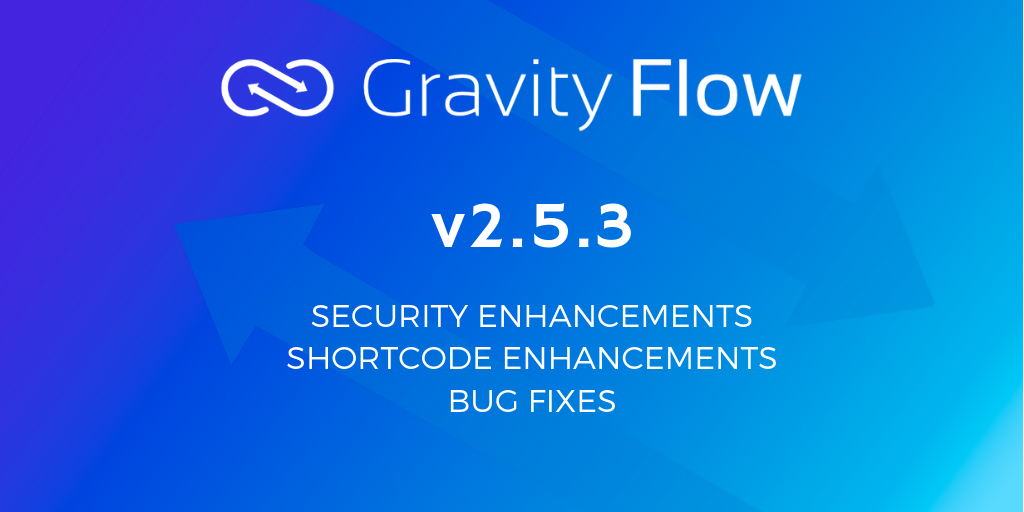 Gravity Flow version 2.5.3 is now available via auto-update and for download from the account area.
This is a maintenance release which includes security enhancements, preparation for the upcoming Gravity Flow blocks, some enhancements to the shortcode and some bug fixes. We recommend that customers upgrade as soon as possible.
What's New in Gravity Flow v2.5.3
Added security enhancements.
Added support for the Gravity Flow blocks – coming soon!
Added support for the forms attribute in the submit shortcode so the workflow forms can be filtered. e.g. [gravityflow page="submit" forms="1,2,3"]
Added support for the back_link, back_link_text and back_link_url attributes in the status shortcode.
Added support for multiple forms in the status shortcode e.g. [gravityflow page="status" form="1,2,3"]
Added support for displaying the first 2,000 users in assignee settings.
Updated translations.
Updated the submit shortcode to display only the published workflows or the forms specified in the forms attribute.
Fixed an issue with notification step not identifying all users in a multi-user field for notification.
Fixed an issue when Sliced Invoices status was manually updated to paid, entries weren't released from Sliced Invoices steps.
Fixed an issue with the Status shortcode where users with the gravityflow_status_view_all capability don't see all entries when the shortcode security settings are set to disallow the display_all attribute.
Fixed a validation issue in Assignee, User and Multi-User fields.