We're excited to announce that Gravity Flow version 2.8 is now available via auto-update and for download from the account area.
This is a major feature release that includes live data refresh (no need to reload the page to see new pending tasks), paging, sorting, filtering by value and date range (including date fields and due date), column reordering, full-screen mode, and browser notifications.
As with all our major updates, the public launch of 2.8 will be via a phased rollout to ensure smooth adoption and provide a ramped approach to gathering feedback. This means that you'll receive the 2.8 update through your WordPress Admin at some point during the rollout period, which is expected to be a few weeks long.
However, if you don't want to wait, Gravity Flow v2.8 is also available to all our customers via a direct download from your account area.
Important Note: Caching and script optimization plugins and services have been known to cause problems with the functionality of features when Gravity Flow is updated to the latest version. To counter this issue, we recommend clearing/flushing the page/server cache and also the browser cache following all updates.
Highlights in Gravity Flow 2.8
Workflow Blocks available out of the box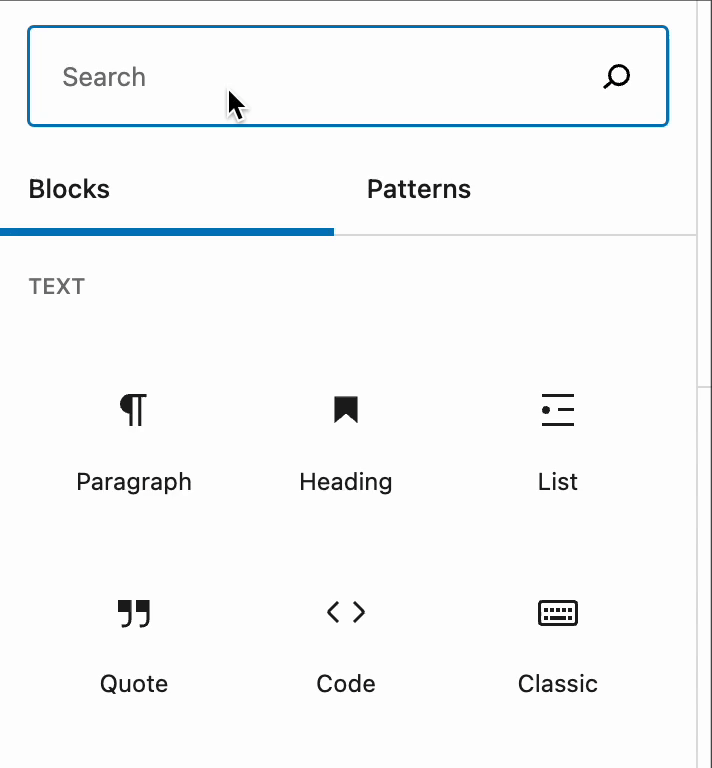 The Workflow blocks were previously released in a separate beta plugin and now they've been promoted to the core plugin. If you used the block plugin you can simply disable it and your blocks will continue to work as expected.
View the documentation for the workflow blocks.
The Workflow Inbox: New Features
Live Data Refresh
Assignees no longer have to refresh the inbox manually, they can just leave the inbox page open and new entries will appear at the top of the list automatically.
If you're a workflow assignee and you're working on other things while you're waiting for tasks to arrive, you'll notice the tab title changes with indicating the number of new tasks awaiting your input. e.g. "(1) your inbox page title". If you're not using a browser while waiting for your next task, and you don't want to miss your next task, you can also enable browser notifications which will notify you regardless of the application you're using.
Browser Notifications
Get notified about new tasks while you're using other applications.



Full-Screen Mode
Sometimes you need more space on the page. Click the full-screen icon to open the inbox to fill the whole of the browser window.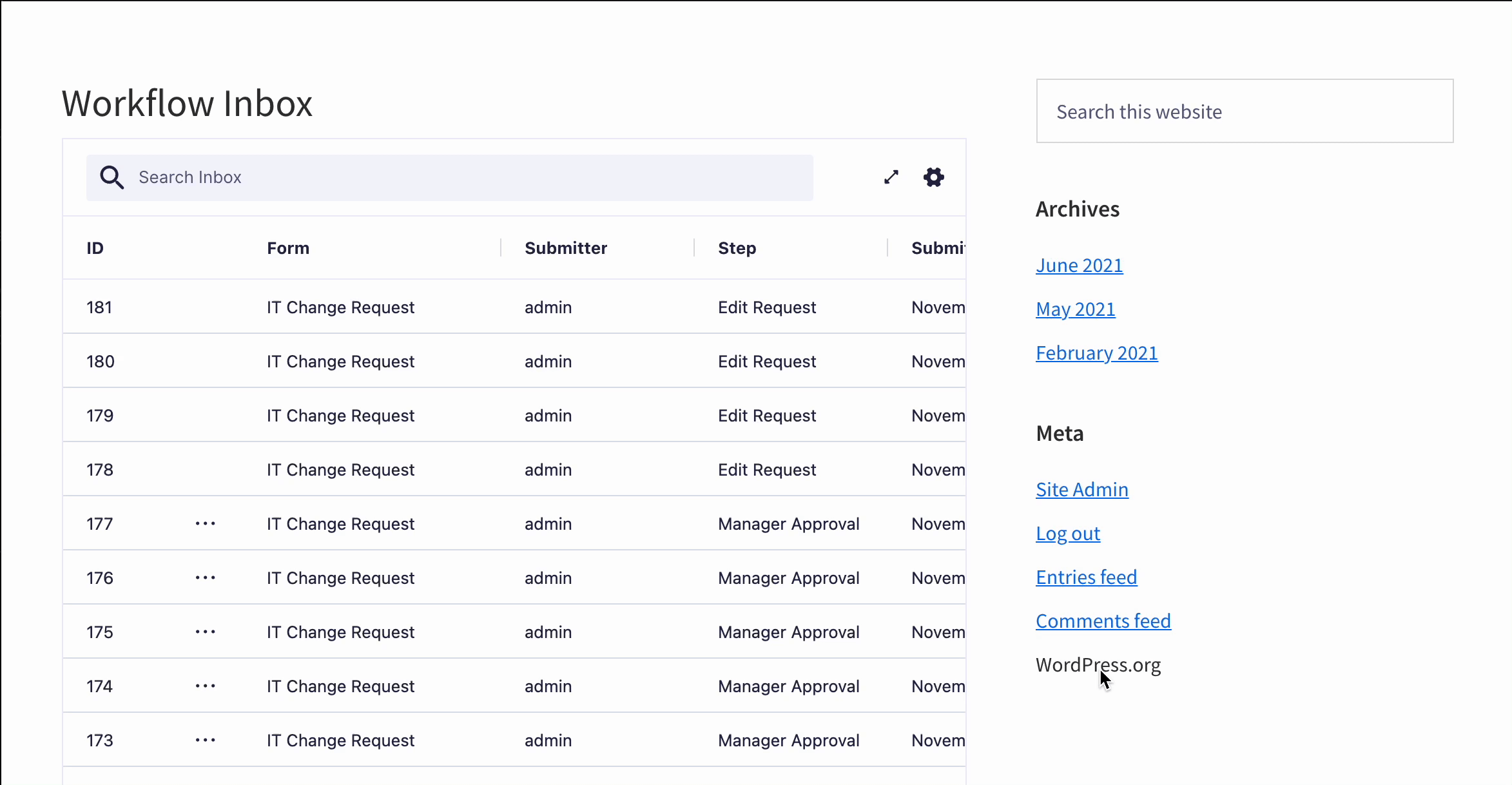 Global Inbox Search
Filter entries by any text in the inbox.


Filter by Column Value or Date Range
Filter entries by any value in any column. Date fields support ranges. Combine two filters in the same column with AND / OR.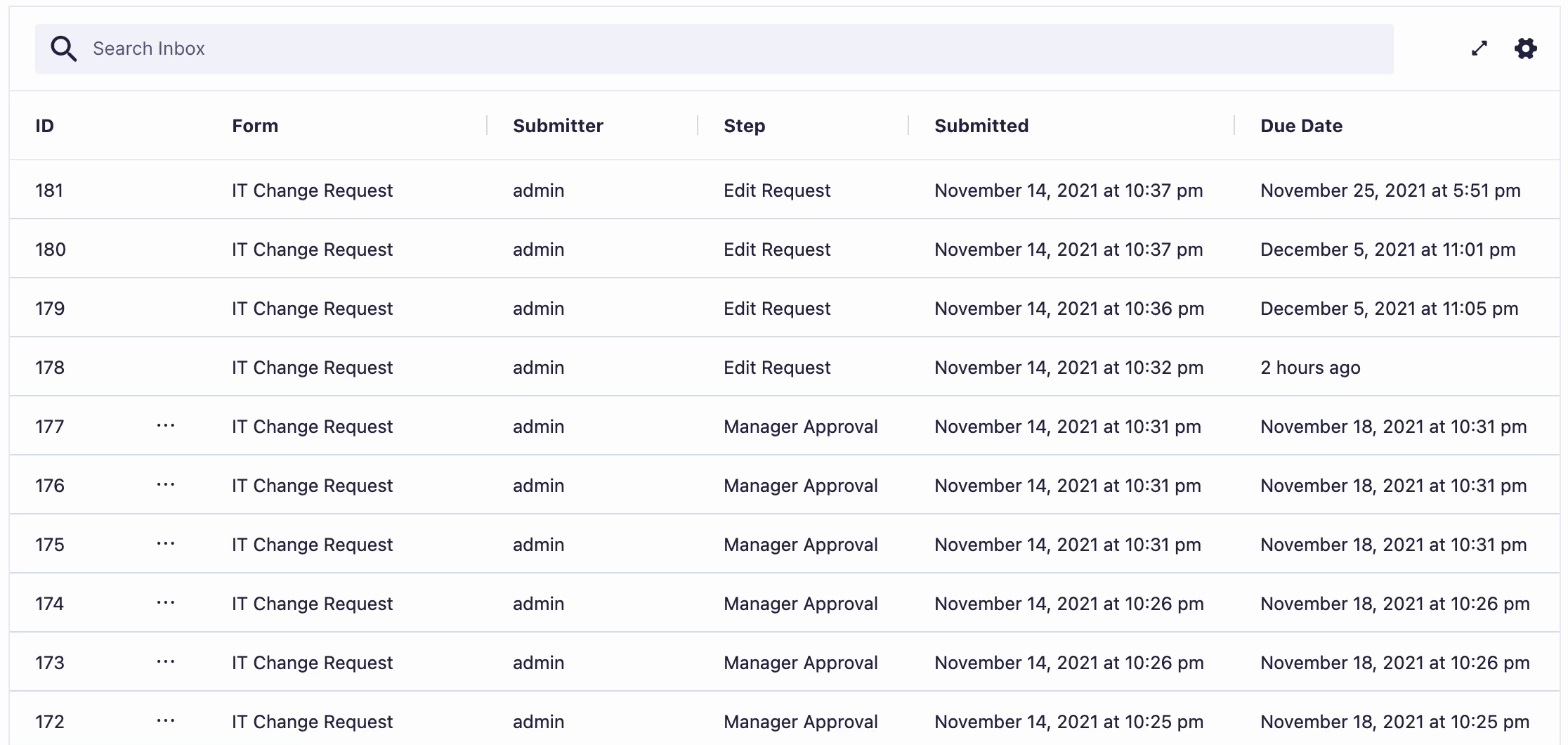 Sorting: Any Column or Multiple Columns
Click on the column title to sort all the entries in the inbox by that column. Shift + click to sort by multiple columns.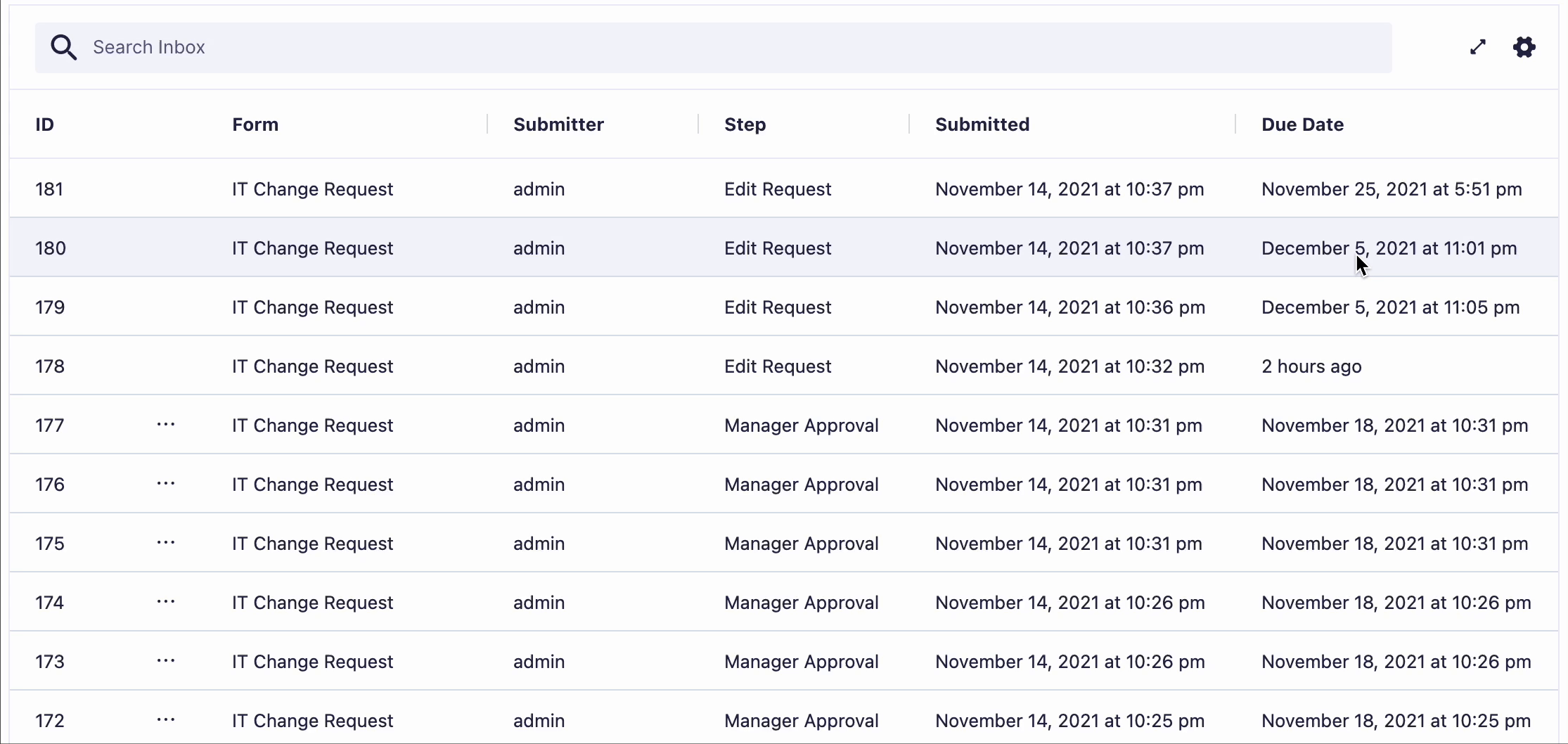 Paging
All entries in the inbox are displayed 20 per page with paging controls at the bottom of the table.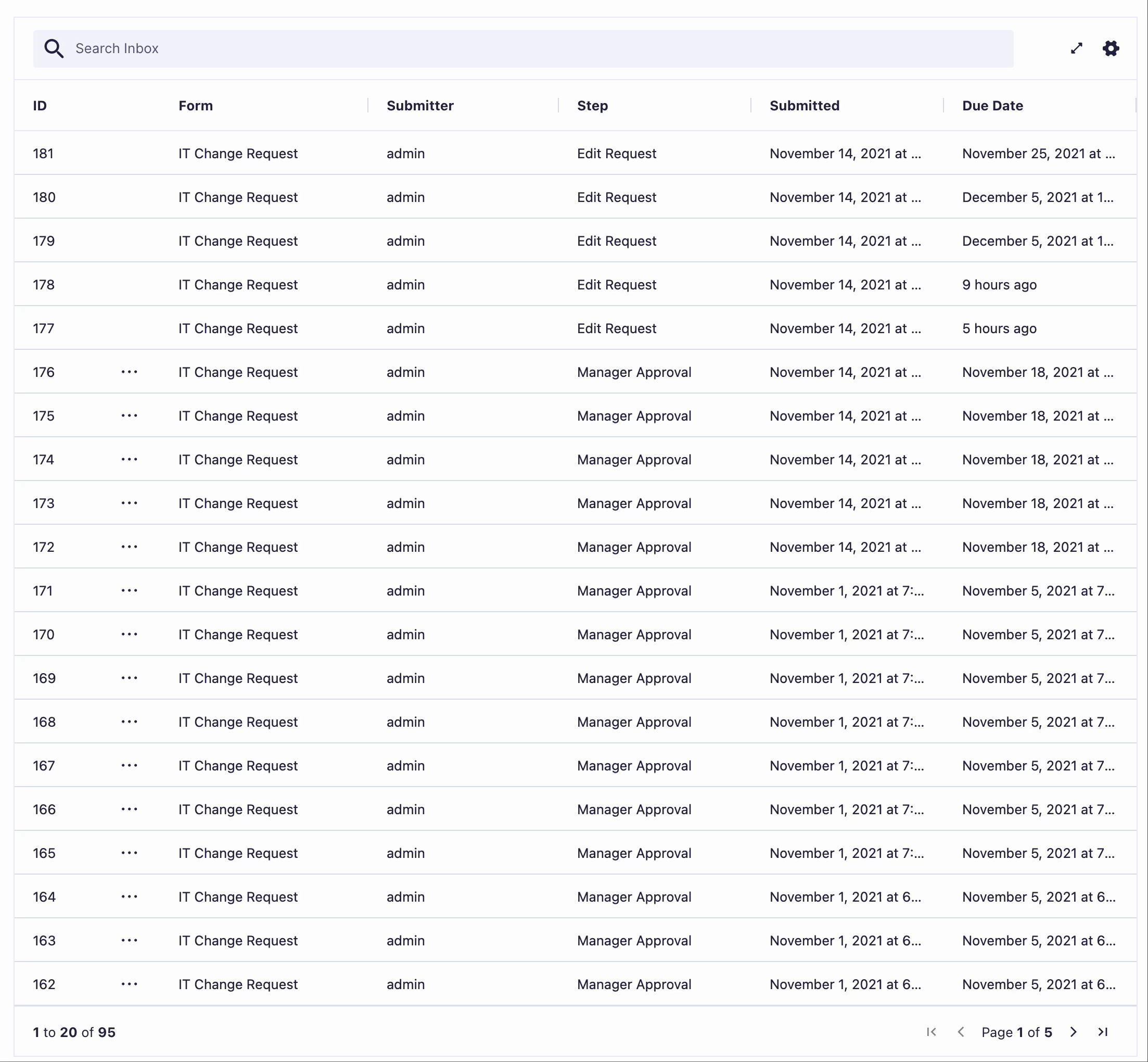 Column Reordering
The columns can be reordered by dragging and dropping. Your preferences will be remembered the next time you load the page.


Quick Actions: New Design for Bulk Approvals
The quick actions have been redesigned for the new inbox and provide a way for assignees to bulk approve or reject directly from the inbox without having to open up the workflow detail page.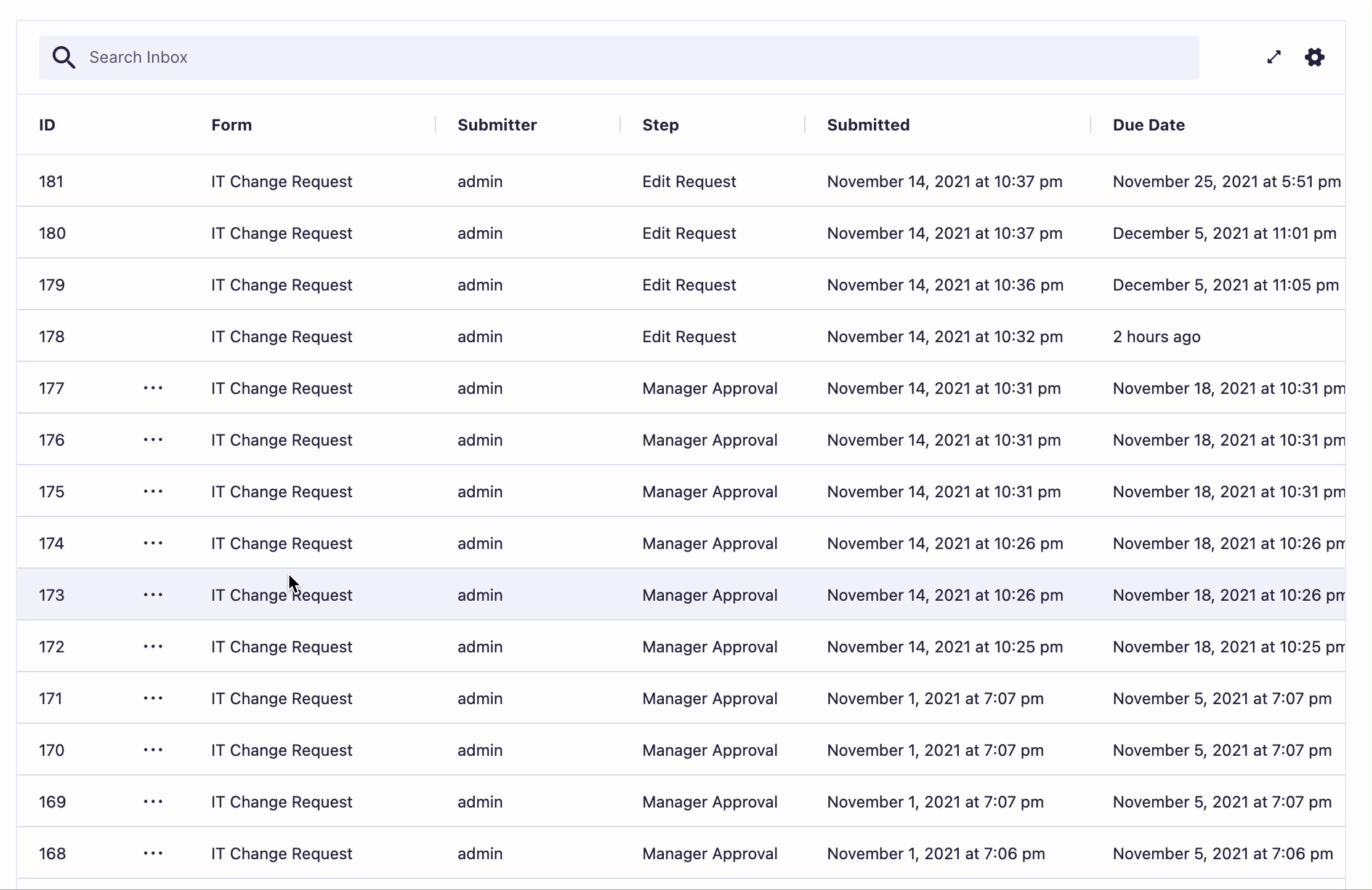 Support for the Legacy Inbox
Finally, if you're not ready for the new inbox yet we've got you. Just add the legacy="true" attribute to the shortcode and you'll get the old inbox back. We won't be adding new features or fixing bugs with the legacy inbox so be sure to switch as soon as you can.
Entry Locking


Any workflow entry detail page accessed in the admin dashboard will ensure concurrent assignees cannot approve or make changes via a user input step. This does not currently apply to entries accessed via the inbox/status blocks or shortcodes on the front-end of your site. If you would like to see that feature in a future release, please add your feedback on our roadmap for it.
What's New in Gravity Flow 2.8
Added a new inbox! Now supports live data refresh (no need to refresh the page), paging, sorting, filtering by value and date range (including date fields and due date), column reordering, full-screen mode, and browser notifications. Note: clear your browser and server cache to avoid seeing errors or an empty inbox!
Added workflow blocks for inbox, status, submit, and reports pages.
Added entry locking support to the admin UI.
Fixed mobile view for the Status page for some themes.
Updated icons.
API: Added the ability for add-ons to use Gravity Flow icons or specify their own.